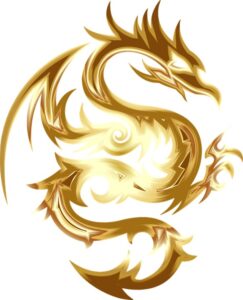 Golden energies for healing mind, body and spirit. Golden Dragon Healing Attunement is one of my own attunements channelled in 2022.
Prerequisite: Usui Reiki Level 2
This was an amazing energy to channel. The energies were so powerful and filled with a bright, golden light that surrounded my whole being and flowed through me, leaving me feeling energised, healed, replenished and renewed.
This attunement has been channelled to connect you with the high vibrational energies of the Golden Dragon, bringing healing for mind, body and spirit.
The Golden Dragon is the most benevolent of the dragons, he resides in the higher dimensions and represents harmony, acceptance and wisdom. He is a very gentle, masculine energy of inner power and truth.
The Golden Dragon exudes a beautiful golden energy, like the sun, that can be used for healing mind, body and spirit. The golden energies uplift and clear the mind of any negative thoughts or thinking patterns. The golden energy heals the physical body, raising your overall frequency and vibration, filling you with positive life force energy. On a spiritual level the golden energies help connect you with light, with source, with higher dimensions, helping you feel empowered, supported and guided to follow your path.
The Golden Dragon is associated with higher dimensions, these energies raise your vibration and are very effective for emotional healing and bring peace, harmony and balance. These higher dimensional energies also work at a cellular level, helping heal the physical body of dis-ease and discomfort, allowing life force energy to freely flow and penetrate every cell of your being. The energies help cleanse the aura and remove any stagnant energies and attachments, surrounding you in an orb of golden light, like an armour, preventing negativity from flowing to or attaching to you.
Please read, What You Need to Know Before Buying a Distant Attunement
WHAT YOU WILL RECEIVE
-Golden Dragon Healing Attunement– distance attunement sent via chi ball
-Golden Dragon Healing Attunement original manual by Amanda Hadley, digital download
-bonus manuals including information about chakras, self development, etc
-certificate and lineage if requested
-ongoing email support and advice
All of the information for the course and bonus manuals will be sent to you by email.
You may also be interested in Dragon Seichim, also by Amanda Hadley
Golden Dragon Healing Attunement – £20