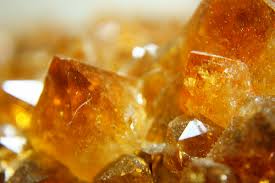 Connection to Citrine, stone of success and abundance. Angelic Citrine Essence Energy Attunement is part of the  Enchanted Crystal series founded by Gabriela Yasmin Szafman.
Citrine is known as a "success" stone because it is told in folklore to promote success and abundance, especially in business and commerce.
Citrine is one of the only stones that dissipates negative energy and never requires cleansing or clearing.
It emits a warm energy that promotes optimism.
It attracts abundance and is known as "a merchant's stone" to be placed in a cash register or where one conducts business, to not only acquire positive wealth but to maintain it as well.
It enhances the body's healing energy and opens the conscious mind to intuition.
It helps one adjust and adapt to process changes, feeling confident and secure.
Citrine's magnetic radiating energy can aid in voice projection, making this the perfect stone for actors and public speakers.
Assists in acquiring wealth and to maintain the state of wealth.
Citrine is helpful for directing creative energy into the physical body.
Some find it helpful in building self-esteem.
Citrine is worn at night to eliminate fear, to prevent nightmares and to ensure a good night's sleep.
Citrine may eliminate self-destructive behaviors or tendencies, and raise self esteem.
This stone should be used to align with the higher self and to protect your aura.
MAGICAL PROPERTIES:
Energy: Projective
Element: Fire
Powers: Anti-nightmare, protection, psychic power
Citrine is associated with Archangel Gabriel.
WHAT YOU WILL RECEIVE:
–Angelic Citrine Essence Energy Attunement distance attunement sent to you via chi ball method
–Angelic Citrine Essence Energy Attunement original manual, digital download
–bonus manuals including information about chakras, self development, etc
–certificate and lineage if requested
-ongoing email support and advice
All of the information for the course and bonus manuals will be sent to you by email.
You may also be interested in Angelic Amber Essence, which is part of this series.
Angelic Citrine Essence Energy Attunement-£12