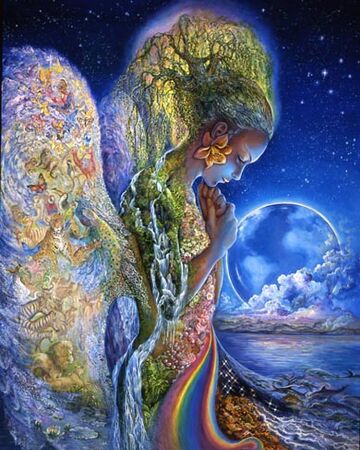 Nurturing,  supportive  energies filled with love and gentleness.  Mother Goddess Empowerment was channeled by Reiki Master Daelyn Wolf (Linda Colibert)  in 2014.
In the manual to accompany this attunement the founder explains, "Mother Goddess Empowerment connects you the energies of the Great Mother Goddess for healing, empowerment, and full potential of success and abundance. The energies are nurturing, fulfilling, healing, and positive. The Mother Goddess helps you with protection, self worth, success, healing, and rising to meet the challenges of your life. This is a very loving energy that helps you take action when you need to in order to manifest and get fast results.
The Mother Goddess draws forth your inner power to gentle push you to achieve your full potential and to be successful. She calls upon the energies of Nature, Creative Source, and your soul to encourage you and help you believe in yourself, to have faith in yourself and your own abilities. She knows you can accomplish anything you desire if you choose to, and she is that soft voice that whispers inspiration and encouragement to help you take actions and to help build your self confidence."
The system uses one symbol and can be used for self-healing or for healing others.
Please read, What You Need to Know Before Buying a Distant Attunement
WHAT YOU WILL RECEIVE:
-Mother Goddess Empowerment–  distant attunement sent to you via chi ball method
-Mother Goddess Empowerment original manual by Daelyn Wolf (7 pages), digital download
-bonus manuals including information about chakras, self development, etc
-certificate and lineage if requested
-ongoing email support and advice
All of the information for the course and bonus manuals will be sent to you by email.
You may also be interested in Crone Wisdom of Goddess Morrigan, also by Daelyn Wolf
Mother Goddess Empowerment- £18